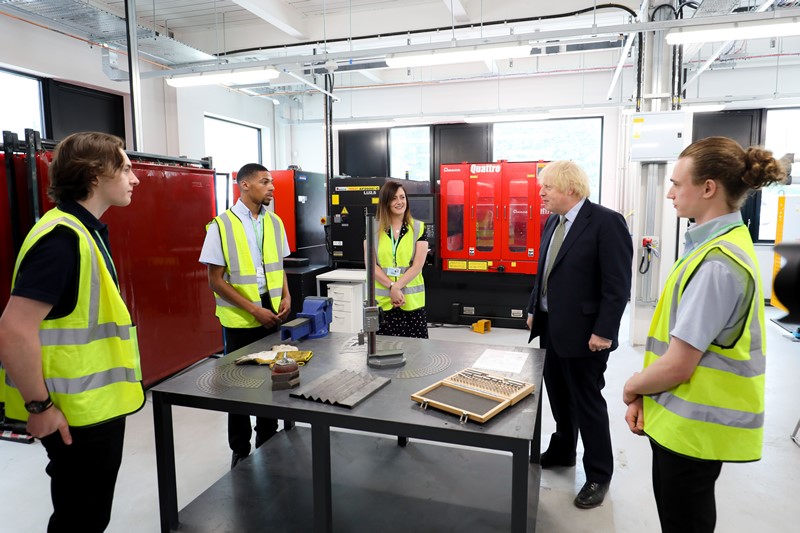 Pledging to "Build, Build, Build" the Prime Minister vowed the government would tackle the problems created by the "lightning flash" of the pandemic by pumping investment into a huge programme of public works and by pledging £5bn towards developing the infrastructure of the UK. He also committed £12bn on affordable housing in what amounted to an investment prospectus of £600bn over the next five years.
With regard to further education the PM offered an "opportunity guarantee" to all young people to ensure they could complete Apprenticeships or work place training. He also hinted there would be further reforms of Apprenticeships later in the year – to provide pathways into work as the economy recovered from the damage of a Covid related slow down.
Before the speech in the Dudley College Advance II hangar, the PM, along with West Midlands Mayor Andy Street and Marco Longhi MP, visited the site of the new Black Country & Marches Institute of Technology (IoT), where College Chief Executive and Principal was able to share the vision for the IoT; which will deliver higher level skills training for the region, developing the skills base that will be need to take forward the spending programme.
During the visit the PM also had the chance to meet Dudley College construction students and medical engineering apprentices who are employed by the College's new industry partner Avensys.
Commenting on the visit Chief Executive and Principal Neil Thomas said: "It was an honour to be able to showcase what is happening in the FE sector to the Prime Minister and talk about the vital role we will play in helping the economy bounce back from the Covid downturn. The Black Country & Marches IoT presents a huge opportunity for young people and adults in the region to develop in demand skills that will widen their career prospects whilst stimulating economic growth."
On the back of the event, it is expected that there will be further announcements next week from the chancellor, Rishi Sunak, that will focus on jobs and training in a bid to prevent unemployment rising later in the year.